Your medical aesthetic expert
to find the right aesthetic
care for you
FREE SIGN-UP
Make yourself more available online
If you are a doctor wishing to optimise your time, get more appointments and make your patients' lives easier, sign up now.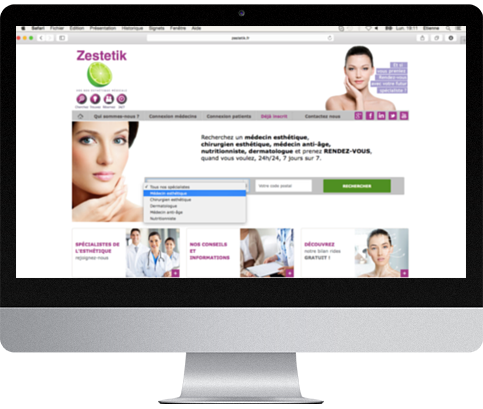 30% fewer appointments if your online visibility is low
Did you know that you miss out on more than 30% of appointments if you do not publish your available appointment slots online for current and potential patients to see?
Zestetik gives you the opportunity to make yourself available to as many people as possible and help you to effortlessly attract new patients.
How?
All users searching for a specialist can access our list of doctors and see their available appointment slots.
They can then request an appointment, which you can subsequently confirm or refuse.
You can manage your schedule as you wish. You decide your available appointment slots and confirm the appointments yourself.
Why use Zestetik?
Zestetik is a service that specialises in aesthetic medicine and offers numerous services to users: advice, information, news, discussions, useful documents, videos, etc.
Thanks to its reliable content, numerous communication campaigns and referencing, Zestetik attracts more than 50,000 targeted visitors per month to its website.
These visitors could become your future patients.
Take advantage of the power of the internet
Thanks to the internet, social networks and mobile phones, users can now contact you 24/7.
Why let them make an appointment with someone else?
Quality services and content
Supported by the WOSIAM (World Society of Interdisciplinary Anti-Aging Medicine), exclusive content in Anti Age Magazine and our partner Euromedicom, Zestetik has already proven popular with numerous internet users.
Experts, your turn!
Boost your medical practice
Medical aesthetic experts
Plastic surgeons, aesthetic experts, dermatologists, antiaging practitioner, nutritionnist, Zestetik is for you